News
NDT was Awarded the "2017 China Most Innovative Top 50 Companies" by FastCompany Magazine
2017-12-18
December 16, 《Fast Company》 has official released " 2017 China most Innovation Top 50 companies" lists. After the innovation of the top media Fast Company, China's best innovation company representative founder, famous investors, scholars and experts and senior media, the multi-dimensional of consideration and selection, from Shenzhen, Hard &Core technology company NDT, continued growth in the commercial market environment with advanced force touch technology, from more than 3,000 outstanding candidates to stand out, has nominated on "2017 China Most Innovation Top 50 companies" list. In the Fast Company's recommendation, wrote: "What you touch and what you get", NDT with a new force sensor sensing technology to lead people into the" blind operation "human-machine interaction era.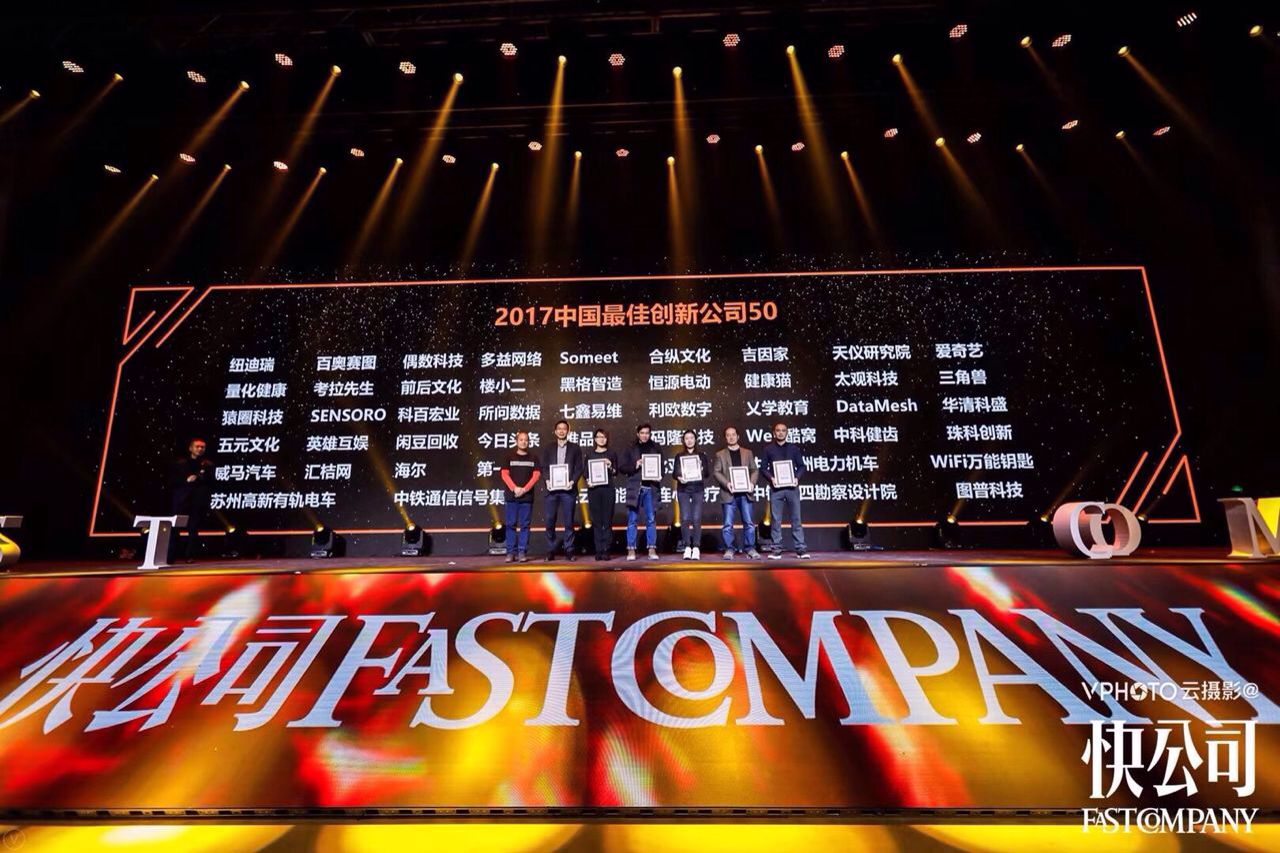 (The second left is Dr. Li Hao, Founder of NDT)
No doubt, Fast Company Most innovation Top 50 companies list in the industry has a high influence and total investment. Since 2008, one of the three major U.S. commercial media, "Fast Company", the annual launch of "The world's Most Innovation Company" (Most innovative Companies 50, referred to as MIC50, or Fast50), has become the world's renowned list.
Following the same way of doing things and ideas, from 2014, the Chinese version of "Fast Company" will filtering thousands of the companies in China every year, looking for innovative genes and put ideas into implement's candidates. The selection event has become an important event to explore, innovate and innovate in China every year.
The list of MIC50 has become one of the norms to observing China's innovations, also represents the current domestic innovation focus and lead the trends.
​In fact, this is not the first time NDT has been evaluated as "China Most innovation companies Top 50",in 2016 NDT has won the award with the subversively "Peel &Stick" force sensor technology. This and NDT together on the list, there are Haier group, TouTiao, IQiyi, VIP shop and other areas of outstanding companies, these companies undoubtedly in the constantly changing business trend to highlight their own strength and innovative value.
NDT was launched smartphone market the edge sensor solution in 2017, based on its high sensitive and thin film force sensor technology, smartphone can be grip the border, light touch, sliding and other operations, the border into the intelligent area, really opened up a new world of smartphone interaction. At the same time, this innovative solution has been successfully applied to U.S. , Taiwan, Korea and other regions of the international smartphone brands, force sensor shipments reached to tens of million and to accomplish rapid growth. From technological innovation to accomplishing business success, NDT is a deserved winner of "China Innovation Companies Top 50" award.
In the mobile internet era, smartphones are gradually replacing the PC as the most important productivity tool, but limited by the screen display size and finger touch operation, the core bottleneck is HMI technology still need to improve the efficiency of smartphone equipment, which is also the major smartphone suppliers chasing the focus of innovation.

As a technology company which is focused on force sensor technology, the core technology of NDT is a kind of special high sensitivity piezoresistive flexible material, which can be printed on the substrate of circuit board, the resistance value will change significantly when the force sensor stretching or compressing, and it can be used as force sensor. With flexible film, high sensitivity and other advantages, NDT force sensor can be applied to the smartphone to accomplish force touch function, for smartphone to add new HMI mode, effectively improve the use of smartphone efficiency, is really from the upstream of the industrial Hard &Core technology innovation.
​

Currently NDT can supply mature force touch and touch on metal solutions to market. Products include smartphone touch screen module, smartphone edge sense module, touch on metal button and home button, there can be widely used in smartphones, consumer electronics, household appliances, security monitoring and other fields, the number of market shipment are more than billion. While as a force sensor company, with its highly sensitive thin-film force sensor technology, NDT will also forces on the billion IOT market in the future. It can foresee the future in bio-sensors, automotive sensors, wearable equipment, intelligent manufacturing and other fields will also have a wide market.
E-mail:marketing@newdegreetech.com